About Us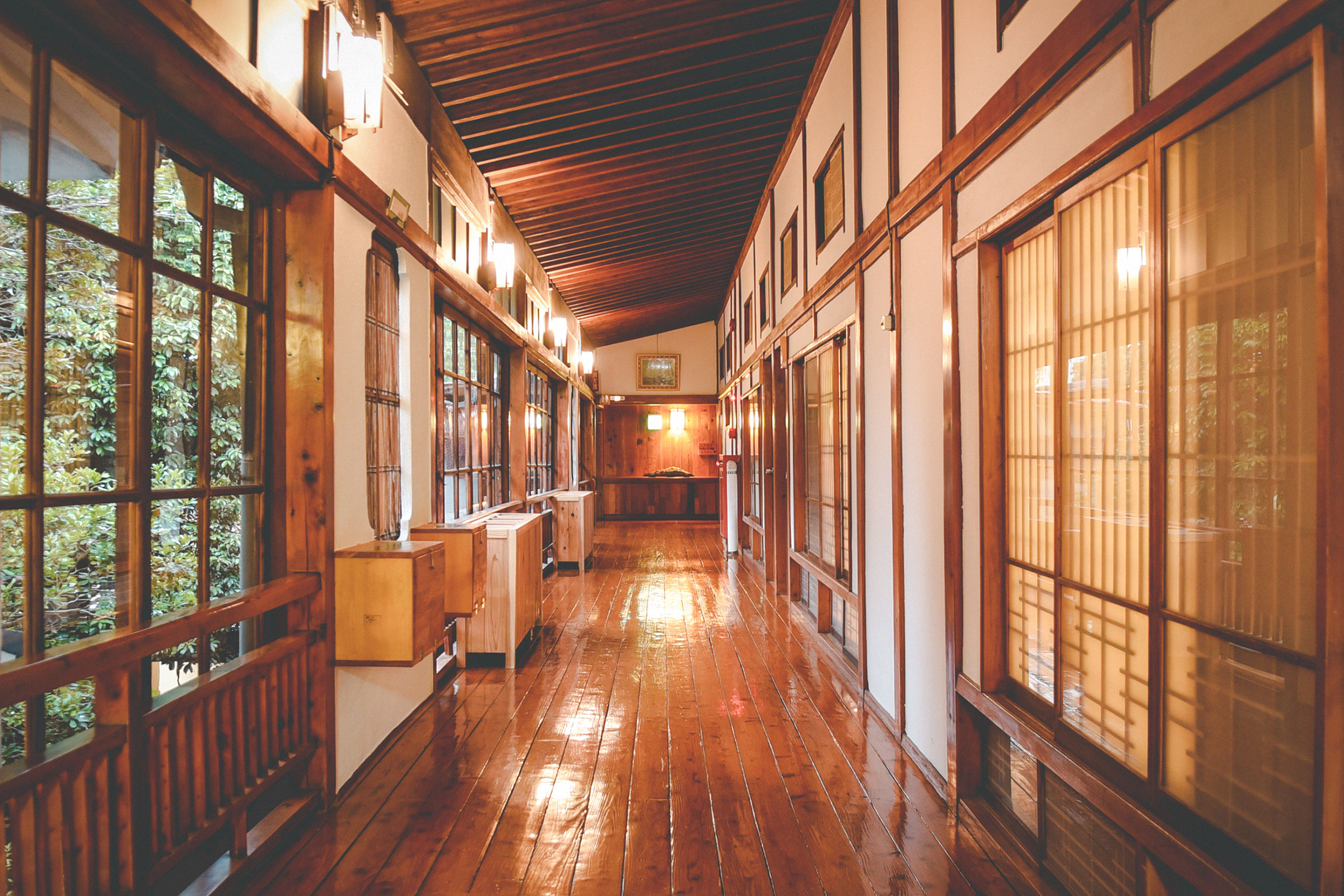 A Memorable Place
The Hitoyoshi Ryokan lies along the banks
of the bountiful, gentle Kuma River.
Our authentic Japanese architecture is untouched since our founding,
offering guests a sense of our tradition and history.
Guests enjoy a sense of familiarity and relaxation
thanks to our warm atmosphere and mindful service.
We look forward to greeting you with the best in simple,
honest hospitality.

A message
from our okami
Third-generation okami
at Hitoyoshi Ryokan
Satomi Horio
堀尾里美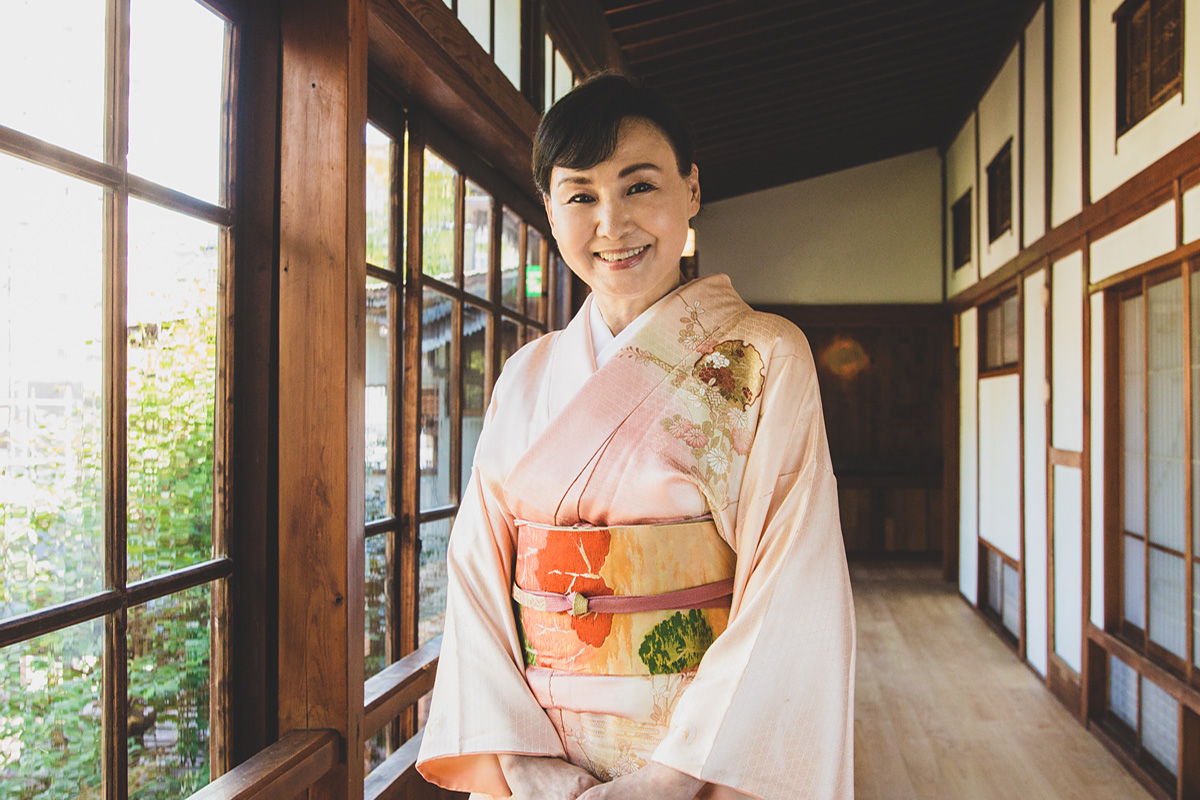 My name is Satomi Horio, and I am the third-generation okami, or hostess, of Hitoyoshi Ryokan.
Hitoyoshi Ryokan is an authentic Japanese inn founded in 1934. We have kept the appearance of our ryokan the same as when it was founded, and we were named as a Nationally Registered Tangible Cultural Property in 2012. I hope to keep maintaining and protecting our historical ryokan into the future.
The Kuma River that runs behind our ryokan is famous for sweetfish, rafting, and being one of Japan's most rapidly flowing rivers in certain areas. Our ryokan offers soothing views over the Kuma River, letting our guests hear the steady babbling of the running water and easing both body and soul. Our famous onsen spas are continuously fed from a natural hot spring with waters rich in minerals that both cleanse and hydrate your skin, leaving it silky smooth. Our dinner and breakfast offerings feature plenty of local ingredients and we aim to emphasize the natural flavors of these high-quality ingredients in every dish. We know you'll love all the local cuisine we offer.
"Warm hospitality" is our motto, so every day we focus our efforts on offering our guests the best stay they can experience. From all of us here at Hitoyoshi Ryokan, we look forward to seeing you here in Hitoyoshi.
The History of Hitoyoshi Ryokan
Snow covers Hitoyoshi, a rare experience (1950s)
The birth of Hitoyoshi Ryokan
Ever since the Warring States period of Japan starting in the 15th century, Hitoyoshi had been a prosperous area built around the industries of wood and charcoal and ruled by the Sagara clan. Merchants from afar would come to Hitoyoshi to discuss business at the many ryotei and restaurants here. The area is flush with quality hot springs, and it is recorded that famed feudal lord Tametsugu Sagara, ruler in Higo, bathed in the springs here in 1492. Later, many public baths opened up here in the late 19th century.
The founder of Hitoyoshi Ryokan, Yoshiki Horio, was originally the owner of a dry goods supplier in Hokkaido. He found a hot spring here in 1933 and built Hitoyoshi Ryokan on the site, a combination of spa and ryokan that was still rare at the time.
Article on Hitoyoshi Ryokan during the Leisure Boom
Growth of Hitoyoshi Ryokan
The second-generation owner, Yoshito Horio, took over running Hitoyoshi Ryokan in 1955. Following WWII, Japan found itself in an era of prosperity, leading to booms in travel and leisure. It was during this time that a number of hot spring ryokan opened and Hitoyoshi prospered as a hot spring escape. The area grew famous for boating down the Kuma River leading to further recognition for the region, and Hitoyoshi Ryokan grew to be loved by even more visitors.
This period was followed by a succession of flooding that hit the area, but each time Hitoyoshi has built itself back up better than ever. This strong connection with nature and the Kuma River continues today.
Kenjiro Horio, third-generation owner, Misato Horio, okami, and the rest of our staff
The Future of Hitoyoshi Ryokan
Hitoyoshi Ryokan is currently at the hands of Kenjiro Horio, the third-generation president, and Misato Horio, our okami. Our staff works together to follow the times and make our ryokan a place guests want to visit year after year, decade after decade. We still take pride in our history though, and there are two things we are especially careful to protect: the architecture and the hospitality of Hitoyoshi Ryokan. The buildings, both inside and out, are important treasures, and so are our customers.
We have always been and will continue to be a ryokan where our guests can come to relax and feel at ease.